Mannheimer Data Meetup: Fostering trust in Industrial AI
The Mannheimer Data Meetup, organized jointly by ABB Corporate Researcher center and Exxeta DataLab, was an engaging event held at the Exxeta office in Mannheim on June 14th, 2023. The core theme of the meetup centered around the essential element of " building trust in AI solutions". More than 25 participants, including professionals from ABB, Exxeta, and the academic community shared their insights, igniting thought – provoking discussions on building confidence in AI solutions within the industrial landscape.
Kicking off the event was Martin W. Hoffman, representing ABB, who brought forth the paramount importance of trust in Industrial AI solutions. With real-world examples and compelling data, Martin emphasized how trust serves as the bedrock for successful integration and implementation of AI in process industrial. Notably, his presentation included an enlightening glimpse into the EXPLAIN project, which aims to enhance transparency and boost confidence in the outcomes of AI systems.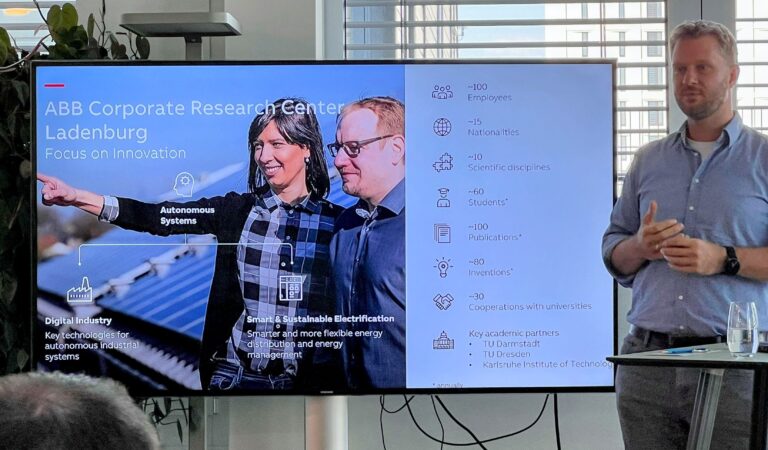 Chen Song, also from ABB, introduced attendees to the realm of active learning in process industry applications. With captivating insights from the KEEN project, Chen showcased how the adoption of active learning techniques can optimize AI models, leading to enhanced accuracy and reliability for industrial analytics.
Through an array of illuminating case studies, Marvin Göbel from Exxeta showcased the transformative power of explainable AI. By unraveling the decision-making processes of complex AI algorithms, explainable AI empowers businesses to make informed choices and cultivate trust in AI-driven solutions.
Next, Sven Hertling from the University of Mannheim, introduced the concept of knowledge graphs and their role in fostering trust in ML knowledge models. With a lucid explanation, Sven demonstrated how knowledge graphs can organize vast amounts of data into interconnected structures, providing businesses with unprecedented clarity and confidence in understanding AI models.
The meetup ended with a lively panel discussion hosted by David Goebel. Attendees had the opportunity to share their perspectives, posed insightful questions, and reflect on the evolving role of trust in the future of industrial AI.